Microsoft Lists is a smart, helpful, information tracking app in Microsoft 365 that allows you to configure lists online. Being easy to use, you can begin List creation from the app, in Microsoft Teams and in SharePoint allowing a team effort to collaborate, edit and customise information from anywhere. 
When creating Lists there are a few ways to get started (which you can find more information about in our recent blog post 'Microsoft Lists: How to create new lists and add them as a tab in a Microsoft Teams channel') but to make List creation easier and quicker for users, Microsoft Lists have provided users with 11 helpful predefined templates that can then be edited and customised to preferance. 
Predefined templates help to address crucial business processes with pre-configured layouts that include columns, colour formatting, and data structure. Choosing to begin with a template is a an easy starting point to build your first Microsoft List up.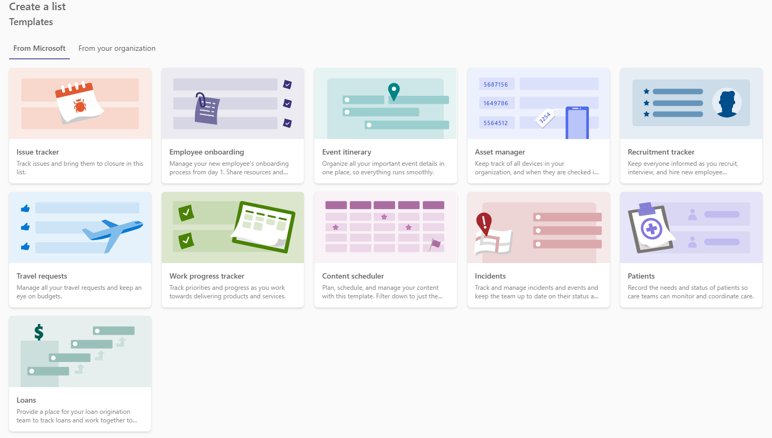 There are multiple templates available to choose from that will help you digitalise your business processes.
Available Templates
Issue tracker - Is a kind of service desk app that helps monitor user's requests
Employee onboarding - Tracks tasks assigned for the onboarding process of new employees 
Event itinerary - Helps to organise event details all in one place 
Asset management - Helps to assign equipment across users within an organisation 
Recruitment tracker - Helps to keep everyone in the loop about where in the hiring process a potential employee is 
Travel requests - Manages the process of travel approval within an organisation 
Work progress tracker - Helps to put tasks in order and tracks completion and progress 
Content scheduler - A helpful template for scheduling content - useful for employees who work in digital communication and schedule content across multiple platforms 
Incidents - Tracks incidents and communicates an incidents status 
Patients - A helpful tool for medical staff when recording a patient's status so that they can be monitored and carecan be actioned accordingly
Loans - To help track the approval process for loans
Whatever template you choose that you feel is the correct fit for your business process, just know that all templates are easy to edit and customise to suit your specific needs. 
If you would like to learn more about how Microsoft collaboration tools can benefit your business, contact Digital First today for a free consultation.