Are organisations effectively using their analytics to digitally transform their business?
94% of Supply Chain Leaders agree that digital transformation will enhance supply chains significantly.
However, only 44% of Supply Chains have a digital transformation strategy for 2018 prepared.
66% of leader's state that the use of analytics is critically important for all operations in a business over the next 3 years.
The Hackett Group conducted a study to investigate this further; Analytics: Laying the Foundation for Supply Chain Digital Transformation. The study stated that making analytics the top priority for each business strategy is key for 2018, but how can this be implemented?
The first stage is developing a digital transformation framework; as this creates a foundation for the analytics and insights retrieved. Benefits include:
The capture of large, complex data sets.
Data managed effectively and efficiently.
Gather valuable insights from diverse data sets.
Using this framework creates four main workstreams to focus on: digital customer engagement, digital workforce, digital service optimisation and digital ecosystem.


Once the framework has been created, a structured decision-making process can be put in place:
Descriptive analytics - What happened?  Use past data to create a report on performance and how to improve this.
Diagnostic analytics - Why did it happen?  Start a root-cause analysis to identify key issues/tactics.
Predictive analytics - What will happen?  Predicting future events enables businesses to become proactive, and less likely to fail.
Prescriptive analytics - How can we do better?  Find new ways to improve i.e. artificial intelligence, virtual reality, innovation.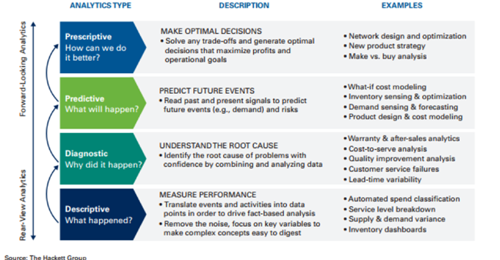 Structuring your business strategy this way, and taking full advantage of the analytics available will create many benefits to your organisation, including:
Improved supply chain performance
The creation of a digital transformation roadmap
Easily identified business objectives
This approach also helps a business achieve its goals, whether it be long term or short term: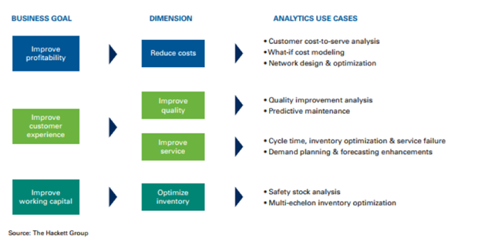 The Hackett Group have provided key points that need to be considered when creating a roadmap leading to digital transformation. It's an interesting, insightful look at how analytics are revolutionising the supply chains in 2018 and beyond.